Some people think fitness is all about grueling 5 A.M. runs or "squat 'til you drop" hysterics, but we'll let you in on a little secret: Working out can be fun too! And no one knows that better than Jordan Morello.
If you take a look at his Instagram profile, you'll see that Jordan is all about good vibes and upbeat workouts. He has attracted more than 400,000 followers to his account, which features everything from his favorite recipes to HIIT workouts (and who could forget his best friend Brody).
But behind the big smiles and goofy dance moves, Jordan is truly passionate about helping people reach their goals while enjoying the process. That's why we brought his effective moves and infectious enthusiasm to his program, Abs + Booty Burn with Jordan Morello.
We had a chance to talk with Jordan about how he got started and what to expect from his workouts.
BODi: Where did your interest in fitness originate?
JORDAN MORELLO: When I was little, I was diagnosed with ADHD, Tourette's, and dyslexia, so it was always hard for me to concentrate in school. I went to a neurologist and was prescribed a few different medications.
During my freshman year in high school, I was sitting in my geometry class and started having a panic attack. I almost passed out, so I was taken to the hospital. After I got home, I went to my mom and said, "I'm not going to take these pills anymore. I'm done with the medication. I want to move on to other options, so what can we do?"
And that's where we started to pair fitness and nutrition, and found the benefits that they could have, not just physically but mentally.
How did you go from getting into fitness to becoming a trainer?
Since I played basketball in high school, I was a captain and coaching at a young age. So I was kind of used to taking charge and leading our workouts. That's when I learned that I wanted to be a trainer and help other people reach their goals.
I ended up working at Orangetheory and really fell in love with helping my personal-training clients. There was a particular client named Jack, and my experience with him helped me pursue my passion even more. I saw how much I was able to help him, not just physically but mentally. That was the coolest part about it. And I knew right from there that I wanted to help as many people as I possibly could.
How did you adapt that outlook to social media?
Even though I saw the impact I had on people like Jack, I knew I couldn't do that every day. I really wanted to help the masses, but there was a limit to how many clients I could see. That's where I started with social media.
When it first came out, I didn't really know what Instagram was. I posted a couple random pictures in the beginning, but I didn't take it seriously until I started posting my modeling photos and workout videos.
It was a slow climb at first, but I just kept at it. And then I started to get more likes and traction, with people telling me "This is awesome, keep posting them!"
What's the inspiration behind your program?
I want people to know that fitness can be fun! It can be intimidating to jump in, especially if you kind of fell off the wagon because of COVID or anything else. But I want people to get back in, have fun, and start slow.
I don't want people to feel intimidated to work out, because everybody starts from somewhere. My main goal is to relate to everybody and give them a sense that they can do these exercises, with modifications or not. That's why I like low-impact workouts, things that everybody can do.
I'm trying to teach people, keep it light, and help them have fun without overpowering them or standing above them.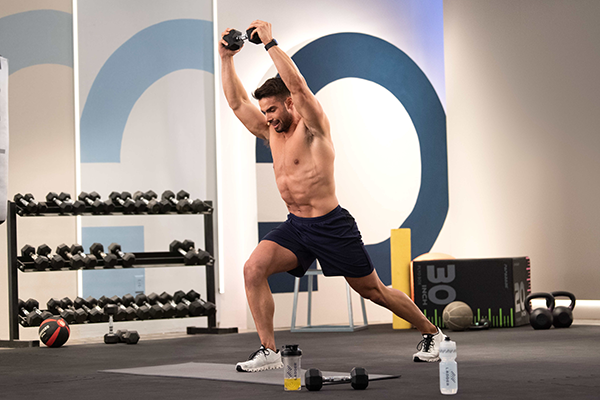 Can you give us a breakdown of your workouts?
We have six videos: two for lower body, two for abs, and two full-body. That way we incorporate all the muscles. There's also a lot of compound movement, so you're working different muscles at the same time. But if you want to lean out that midsection or work on the backside, this is the workout for that.
What kind of experience can people expect from these workouts?
I try to bring you as much energy as possible, and bring you smiles, laughs, or whatever it takes to help you push through the workouts. You'll see my energy way through the roof, trying to get you moving and staying through the workout with me.
You can expect to be a little bit sore, but enjoy what you're doing and have fun too. You should bring a lot of good energy and enjoy yourself because you're going to smile and laugh a lot.
If you take it seriously, stay consistent, and work really hard, you can see great results. Whether it's fat loss or muscle gain, you'll definitely benefit from this.
What's something people might not know about you?
I did undergrad at [the University of Central Florida] and was pre-medical and worked as an EMT. I shadowed doctors, took my GRE and MCAT, but when it was time to start applying for medical school, I realized I just wasn't in for it and kind of fell out of love with it.
The medical industry's loss is our gain!