Want to dive deeper into a strength training program but not sure where to start with at-home gym equipment?
Adjustable weight sets are a convenient, space-saving, and effective way to turn your home into a gym or to do a muscle-building workout on the go.
Instead of buying dozens of dumbbells to reach your desired weight-lifting goals, opt for one of these hand-picked adjustable weight sets so you can build muscle without sacrificing an entire room in your house!
Even better, with adjustable weight sets, you don't have to worry about outgrowing your smaller weights as you get those gains.
Here are seven adjustable weight sets to try in 2023.
1. BOSWELL Adjustable Weights Barbell Dumbbells Set
This adjustable weight set ranges in weight from 22 to 65 pounds.
It features 12 weight plates and also comes with an attachable connecting bar to transform both dumbbells into a barbell!
Available at Amazon.
2. FEIERDUN Adjustable Weights Dumbbells Set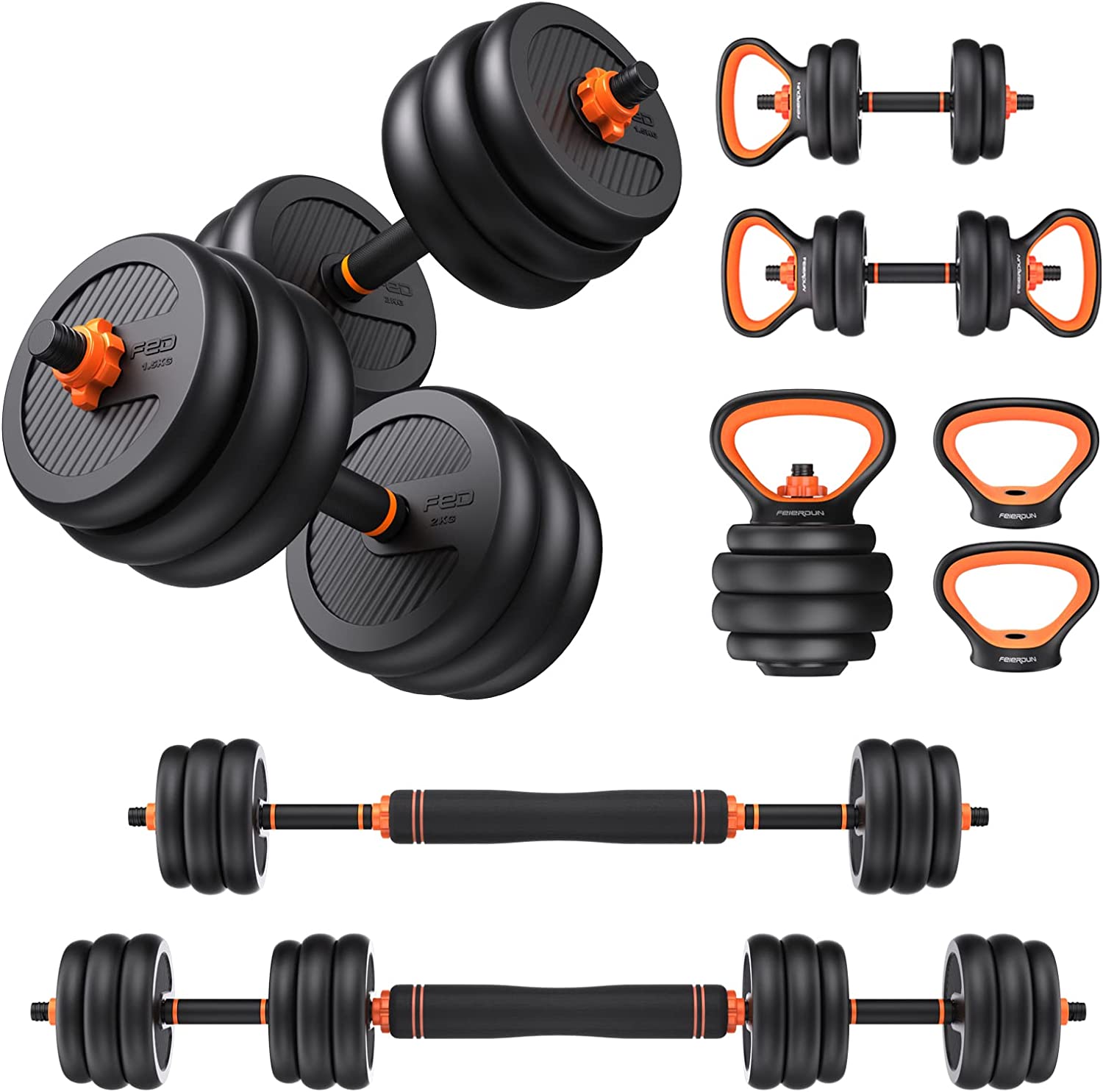 This ultra-durable 3-in-1 adjustable weight set can be used as dumbbells, kettlebells, barbells, and push-up stands.
It features an ergonomically designed grip rod, with a diamond-shaped texture on the surface for perfect (and safer) gripping.
The connecting rod is wrapped with a thick sponge to further enhance your grip, absorb moisture, and wick away sweat!
Available at Amazon.
3. Nice C Adjustable Dumbbell Weight Pair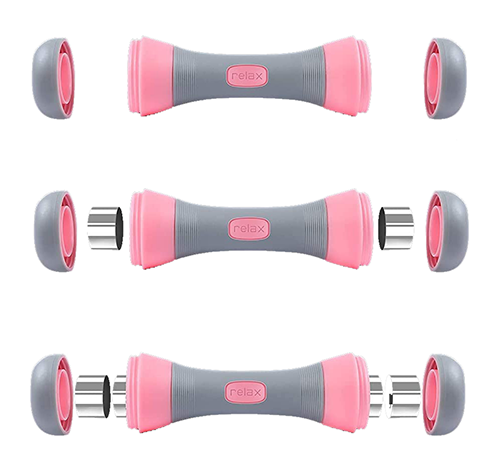 These budget-friendly, lower-weight dumbbells come with removable weight bars. Just twist off either end of the dumbbells to add or remove weight for a completely customizable workout!
Available at Amazon.
4. FLYBIRD Adjustable Dumbbells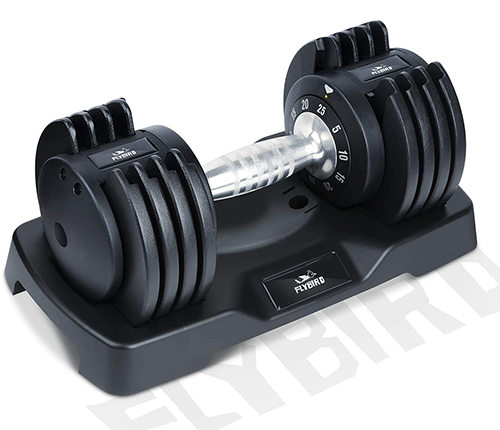 All you need is one hand to quickly change the weight of these space-saving dumbbells.
A turn of the handle adjusts the load from 5 to 25 pounds. Plus, the design ensures the weight plate won't fall during your program.
Available at Amazon.
5. SelectTech 552 Dumbbells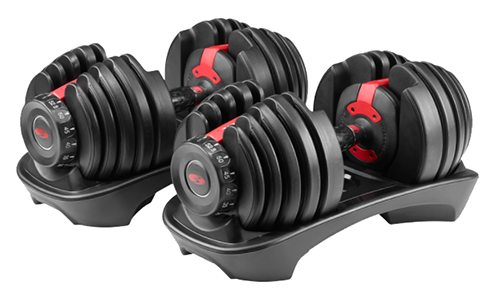 These premium adjustable weight sets conveniently replace 15 different sets of weights. Use the selection dials on either end of each dumbbell to adjust the load from 5 to 52.5 pounds.
These are ideal for anyone who's looking to slowly but steadily get some major gains!
Available at Bowflex.
6. Lifepro Adjustable Dumbbell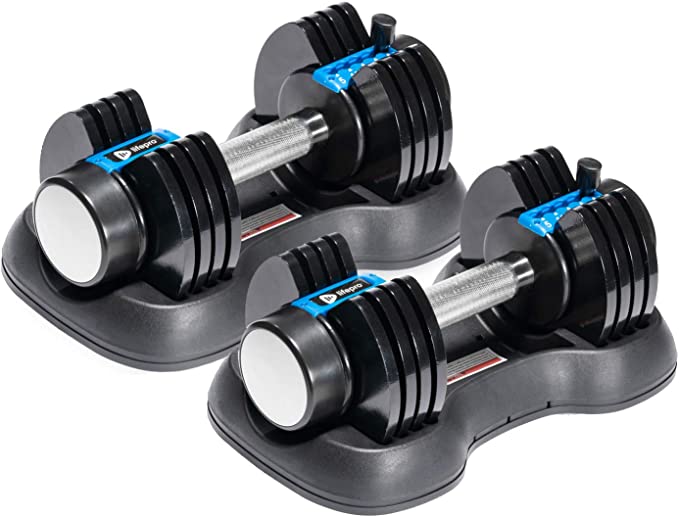 These mini dumbbells are the perfect compact solution to help you get in a strength workout on the road or at home.
Lifepro's weights adjust from 5 to 25 pounds in increments of 5, so these are the perfect complement if you've already got heavier dumbbells at home.
Available at Amazon.
7. PowerBlock Sport Series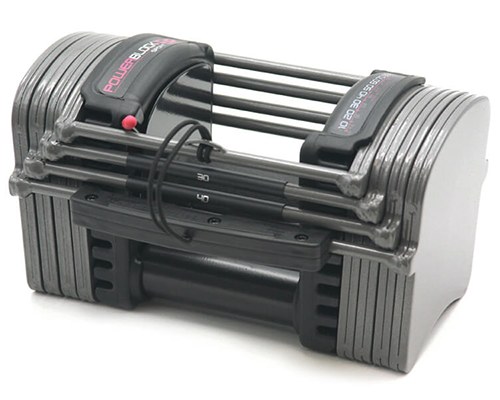 If you're a serious lifter, this is the adjustable dumbbell set you need. It replaces up to 16(!) sets of dumbbells and goes up to 50 pounds per hand.
But, with two different add-ons, you can get all the way up to 70 or 90 pounds per hand so this set will grow with you!
Available at PowerBlock.